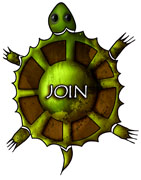 Join In
Online for FREE newsletters about the wisdom traditions, updates about FREE Streamed Soundings, FourTimes a Year, The weeks surrounding the Earth's Equinoxes and Solstices.

*
Our Thoughts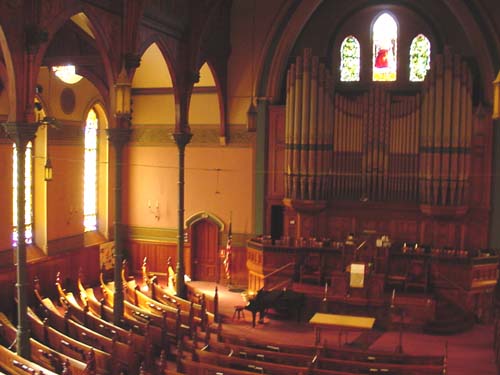 First Churches Sanctuary,
Northampton, MA


Join us:
Our most current events are listed at:
http://allonenow.org/futureevents.html
Our June Events, June 21-26, 2005
June 26, 2005
Live World Sounding Event
Live web broadcast via worldpuja.org
4:44PM-6:20 PM, EST (-5 GMT)
The entire healing ceremony is at the First churches Sanctuary, in Northampton, MA,
from 4:00-6:20 PM
as part of the
Science and Spirit of Sound Conference
of the New England Sound Healing Research Institute
The full weekend conference is June 24-26
For live links to our web broadcast events, go to our partnered site www.allonenow.org
Home
About Us
Our Associates
Links
Events
What is Sound Healing?
About Earth Healing
Ways to Support us
The World Sound Healing Organization (WSHO)


WSHO is a joint effort of numerous individuals and organizations world wide, dedicated to service to this planet, to its healing and growth, and to the elevation of consciousness within humanity, that we might reach our highest potential.

WSHO was founded by Annie Bond and Zacciah Blackburn, who serve as Co-Directors.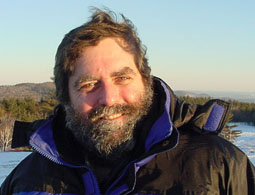 Zacciah Blackburn

Zacciah is a sound healer, and flutemaker, trained in classical healing and shamanic traditions, and sacred sound cultures, maintaining a practice in Ascutney, VT, USA. He is Director of the Center of Light, a holistic center for the study and advancement of the mystical and healing arts. Zacciah teaches internationally, utilizing sacred sound coupled with intention as a therapeutic tool, for personal healing and transformation. His work incorporates a clear understanding of the inherent energies of the Nature of Place, and turns toward intentional ceremony to heighten awareness, growth, and healing within the planet.
Zacciah is, also, Director of Education at the New England Sound Healing Research Institute, a world wide community of healing practitioners broadening the awareness of sound healing through networking, education, and scientific research.

Contact: Zacciah@worldsoundhealing.org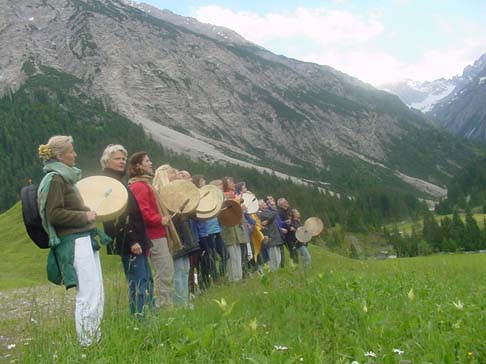 Healing with Sound in
the Austrian Alps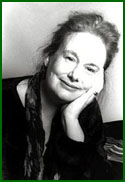 Annie B. Bond (aka Berthold-Bond)

Author, and healer, Annie B. Bond is considered the authoritative voice on the natural, Earth-centered lifestyle. In her work and books she offers a new lexicon, guidance for a new, yet timeless, way of living and being in the world, that is in harmony with our most essential selves and the Earth. The wisdom embodied in her books was gained from the depths of her own struggles with the after effects of chemical poisoning which left her unable to function in the world as she knew it. Her journey toward health led to her first bestseller, Clean & Green (1990), and then The Green Kitchen Handbook(1996), and Better Basics for the Home (1999). Her latest book, Home Enlightenment (Rodale, fall 2005) is a comprehensive guide to establishing home sanctuary. She is also the executive producer of Care2.com's healthy living content, and an intuitive energy healer.

Annie's unique view of the deep wounds to her personal system from toxins has led to her compassion for the wounds the Earth has suffered at the hands of the modern chemical industry. Our water, our air, the ground that we harvest our foods from, the fire that sustains us, are deeply interconnected and honored by her vision of harmonious balance in tune with the natural elements.


Contact:


---
For information on our growing number of Affiliate Organizations, please look to our Associates page.
How You Can Help


Submit your events (when web submission is available,) link to us, volunteer or make contributions to our non-profit organization (send checks to address below, can be used as a tax deduction), submit your name to our e-mail list for receiving our newsletters, work for world peace, tolerance and respect for one another, and the Earth!

WSHO is a 501(3)c non-profit project of the Spectrum Arts and Education for Peace, Inc.